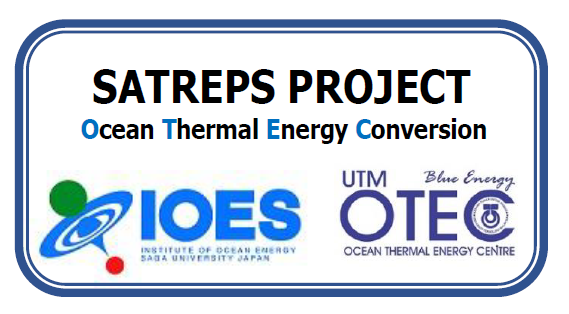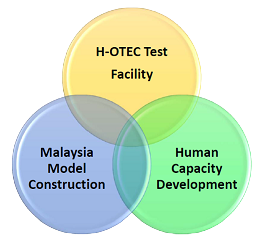 Development of Advanced Hybrid Ocean Thermal Energy Conversion (OTEC) Technology for Low Carbon Society and Sustainable Energy System:
First Experimental OTEC Plant of Malaysia
Satreps OTEC Project will be undertaking for 5 years (2019-2024)
Overall Goal
The implementation of combination of Hybrid OTEC (H-OTEC) and deep seawater application, so called "Malaysia Model", is commenced in Malaysia
Project Purpose
Malaysia Model is established
Outputs
1. The H-OTEC pilot plant suitable for Malaysian environment is developed.
2. The optimum condition for H-OTEC in Malaysia is specified based on the experiment using pilot plant.
3. Suitable combination of deep seawater (DSW) multiple use in Malaysia using H-OTEC is established.
4. Effects on the environment and CO2 emission are quantified.
5. The human capital on the OTEC technologies and on the DSW multiple use for business is developed.