PROJECT 9
HYBRID OTEC - OVERALL PERFORMANCE ENHANCEMENT AND COST REDUCTION, ORC SYSTEM ENHANCEMENT AND RESEARCH ON NANOFLUIDS (WORKING FLUIDS)
Project Leader: PM Dr. Nor Azwadi Che Sidik (UTM)
Ocean Thermal Energy Conversion has shown promising alternative energy due to its stable energy supply as not being largely influenced by the meteorological condition.
The specifics of this project, as part of the bigger program, is to research the performance improvement in the Organic Rankine Cycle (ORC) system for Hybrid OTEC.
ORC is widely considered as a promising technology to produce electrical power output from low-grade thermal sources.
Potentially ORC system could have overall efficiency between 10-20% based on the current state-of-the-art technology proven by other parties.
A similar level of efficiency or better need to be the target for Hybrid OTEC system, which has its own set of difficulties.
Thus this research is mainly aimed to investigate all parameters in the ORC system which could enhance the overall system efficiency, plus reduce the cost for implementation.
This will involve design level optimization where different components are lumped together for cross-interaction, leading to operational improvements.
The specific focus of this research is on the working medium of the ORC.
The most common working liquids of ORC are readily available refrigerants or ammonia.
However, enhancement in the working liquid by means of nanoparticles infusion could improve the overall efficiency.
The impact of nanofluids and its implementation into ORC as part of the Hybrid OTEC will be investigated in this research.
To achieve performance improvement in the ORC for Hybrid OTEC through system level optimization
To demonstrate the use of nano liquid as a working medium for ORC in Hybrid OTEC leading to improved performance.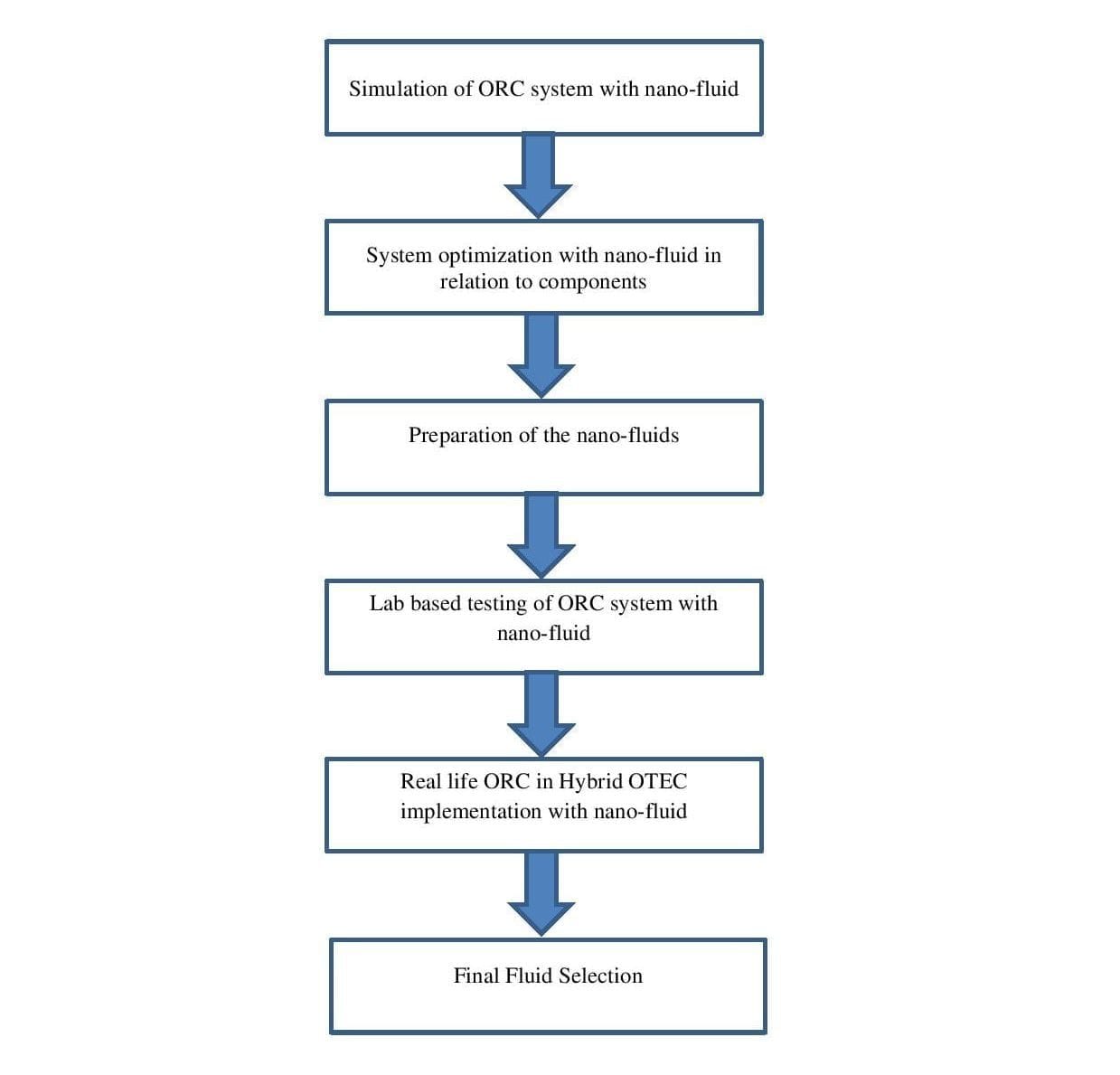 Novel theories/ New findings / Knowledge
A new nano-liquid for use in the ORC system
Research Publications
Fifteen (15) high impact journal papers
Specific or Potential Applications
Patented nano-liquid could be used for other ORC system, which is becoming a mainstream waste heat recovery cycle.
Number of PhD and Masters (by research) Students
PhD Student(s): 3
Master Student(s): 3
UTM
PM Dr. Nor Azwadi Che Sidik  – PROJECT LEADER
Ts. Dr. Sathiabama T. Thirugnana
Dr. Chiong Meng Soon
Mr. Ahmad Tajuddin